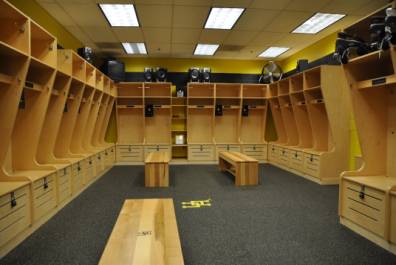 Upper Arlington Hockey Association
Click here to view a copy of the reference letter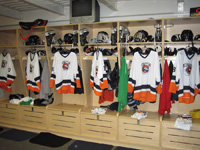 New York Junior Bobcats
Click here to view a copy of the reference letter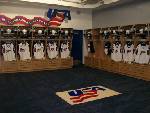 September 28, 2007
To Whom It May Concern:
USA Hockey's National Team Development Program entered its second decade of operation with the need for update and upgrade our locker room facilities. The NTDP trains the top 46 under-18 players in the United States each year, and sends them to represent the country in tournaments all over the World.
Leiden Woodworking did an outstanding job of working with us to develop a plan for both of our locker rooms and create changing stalls for our players. Bruce Leiden also helped us to 'redesign' the space we use and to maximize it for our coaches' benefit.
Bruce had the green light on construction around August 1 and had all our equipment in place by the first week of September. He was also willing and able to make adjustments on the fly.
The quality of the workmanship is second to none. The effort and experience is tremendous. And the result was a great improvement for us. I would highly encourage you to utilize Bruce Leiden and his folks to put together your plans and locker room.
As well, if you would like a picture or look at our facility to compare, you are welcome to contact me.
Sincerely,
K. Scott Monaghan
Director of Operations
USA Hockey NTDP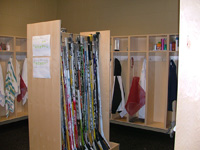 September 21, 2007
To Whom It May Concern:
Adrian College was late in processing which avenue to take in deciding the type of lockers for the new Arrington Ice Arena. As we contacted numerous vendors, Leiden Woodworking assured Adrian College they could complete this project in six to eight weeks. Leiden started production of the wood lockers from scratch on August 5, 2007 and installed the last locker on September 15, 2007 (Just seven weeks from start to finish).
The workmanship and quality of the lockers (109 wooden ice hockey lockers, 56 wooden changing lockers, 3 stick racks and 4 video cabinets) surpassed the recommendation received for Leiden woodworking. The delivery time, professionalism and workmanship delivered a superior product.
Leiden's willingness to help adjust and rearrange rooms for maximum efficiency only adds to the reasons that Adrian College would recommend Leiden Woodworking for future locker needs.
Adrian College would be more than willing to have you visit our facility or we could forward pictures.
Sincerely,
| | | |
| --- | --- | --- |
| Michael Duffy | | Ron Fogarty |
| Athletic Director | | Head Varsity Hockey Coach |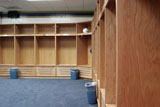 Peoria Rivermen Hockey Club
Click here to view a copy of the reference letter
We are so proud of our new Men's Lacrosse Locker Room at Princeton University. Bruce Leiden of Leiden Woodworking did an amazing, first-class job of selecting the best wood product for us, designing the lockers and cabinets, and installing them meticulously.
From our initial contact with Bruce, he took the time to explain all of our options, from wood types to name plates. He always made sure the lockers and hardware were exactly as we wanted. The installation was professional and the end result was more than we could have hoped for.
Whenever anyone sees our locker room, they are amazed at the attention to detail that was taken by Bruce. We are proud to say that Leiden Woodworking was the best option for us as we searched for someone who would do a quality job with a very reasonable price tag. I would recommend Leiden to anyone looking the highest quality in materials, service, and workmanship.
Sincerely,
Bill Tierney
Head Lacrosse Coach
Princeton University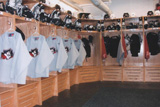 On behalf of the Portland Pirates Hockey Club and Cumberland County Civic Center, I would like to thank you and your company for such a great job constructing our new lockers for our dressing room. The appearance of the lockers and craftmanship has provided the room with an exceptional upgrade.
I would definitely recommend your establishment to any professional sports team or organization.
Thanks again,
Brock Myles
Head Equipment Manager
Portland Pirates (AHL)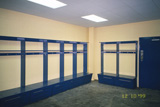 Our hockey club recently had the opportunity to lease space for a private locker room for our team. It was out responsibility to provide the build out including lockers.
After looking at several options, we pick Leiden Woodworking to build and install the player lockers. Bruce Leiden personally did most of the work.
The parents who paid for the lockers and the hockey players using them are very satisfied. We would recommend Leiden Woodworking to anyone.
Randall R. Koorsen
Team Manager
Carmel Icehounds Hockey Club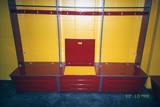 Now that the hockey season is full swing and the State Tournaments are just around the corner. I wanted to take a moment to express my praise and gratitude for a superior performance by Leiden Woodworking on the design, construction and installation of the lockers in our new hockey team locer room.
I would like to formally endorse Leiden Woodworking to any prospective clients who are interested in creating or reconditioning their hockey locker room (or locker rooms for any sport). I am please to proclaim Leiden Woodworking promptly responded to all inquiries that we made. Leiden Woodworking provided several alternatives to match our custom needs. Leiden Woodworking delivered its design proposal immediately, and ipon our acceptance of their proposal, they gave our project their full attention. They immediately crafted the lockers and brought them to our site and had them installed on time and on budget.
If any of our clients would have any questions pertaining to our project, I would be happy to answer them. They are, of course, welcome to visit our locker room and inspect them during a game or practice.
Very satisfied,
Walter L. Brant
Team Manager
Brebeuf Jesuit Hockey Club
I wanted to take this opportunity to let you know that the new locker room in the Webster Center at Babson College that you built has been well received. Coaches, student-athletes, alumni and parents have all been raving about the quality of their new locker room and are very impressed. The design on the locker room itself was well planned and constructed and the lockers themselves have a first class look to them!
I know I speak for out coaches and student-athletes in saying thank you to Leiden Woodworking for their efforts and quality work!
Best Regards,
Frank Millerick
Director of Athletics, Babson College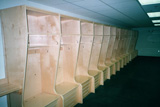 I want you to know that I have heard nothing but strong, positive comments about the way the locker room at the Harrison Rink, Phillips Academy Andover have turned out. Your locker design, layout and installation plays a large part in those opinions. You were a pleasure to work with and had thoughtful, cost effective, program sensitive suggestions and design.
Personally, I would like to thank you for your efforts and assistance with the project.
Best regards,
John A. Galanis
Capital Project Manager for Phillips Academy Andover